Equity and Education in America
Join us on Saturday morning, October 26 at 10:30 a.m.
This Diversity Awareness Month, The Commons Series will feature a keynote and panel discussion on the importance of equity in education.
The event, hosted in honor of Horizons at Harley's 25th anniversary, will kick-off with a keynote by Dr. Vijay Pendakur, Dean of Students at Cornell University. Following his keynote, Dr. Pendakur will join three experts from the University of Rochester, as well as a recent graduate of Horizons at Harley, for a discussion about what equity looks like in higher education today.
The panel will also discuss the importance of collaboration among people from diverse backgrounds in our society today and the role that educators play in making sure that all students have the same finish line when it comes to achieving success in their education and beyond.
The event is free and open to the public, and will be held at The Harley School located at 1981 Clover Street, Rochester, NY 14618.
The event will also be streamed on Facebook Live. Check the Harley School and Horizons at Harley Facebook pages to follow along.

To RSVP, or if you have any questions, contact Rohan Parikh at rparikh@harleyschool.org or (585) 277-1188.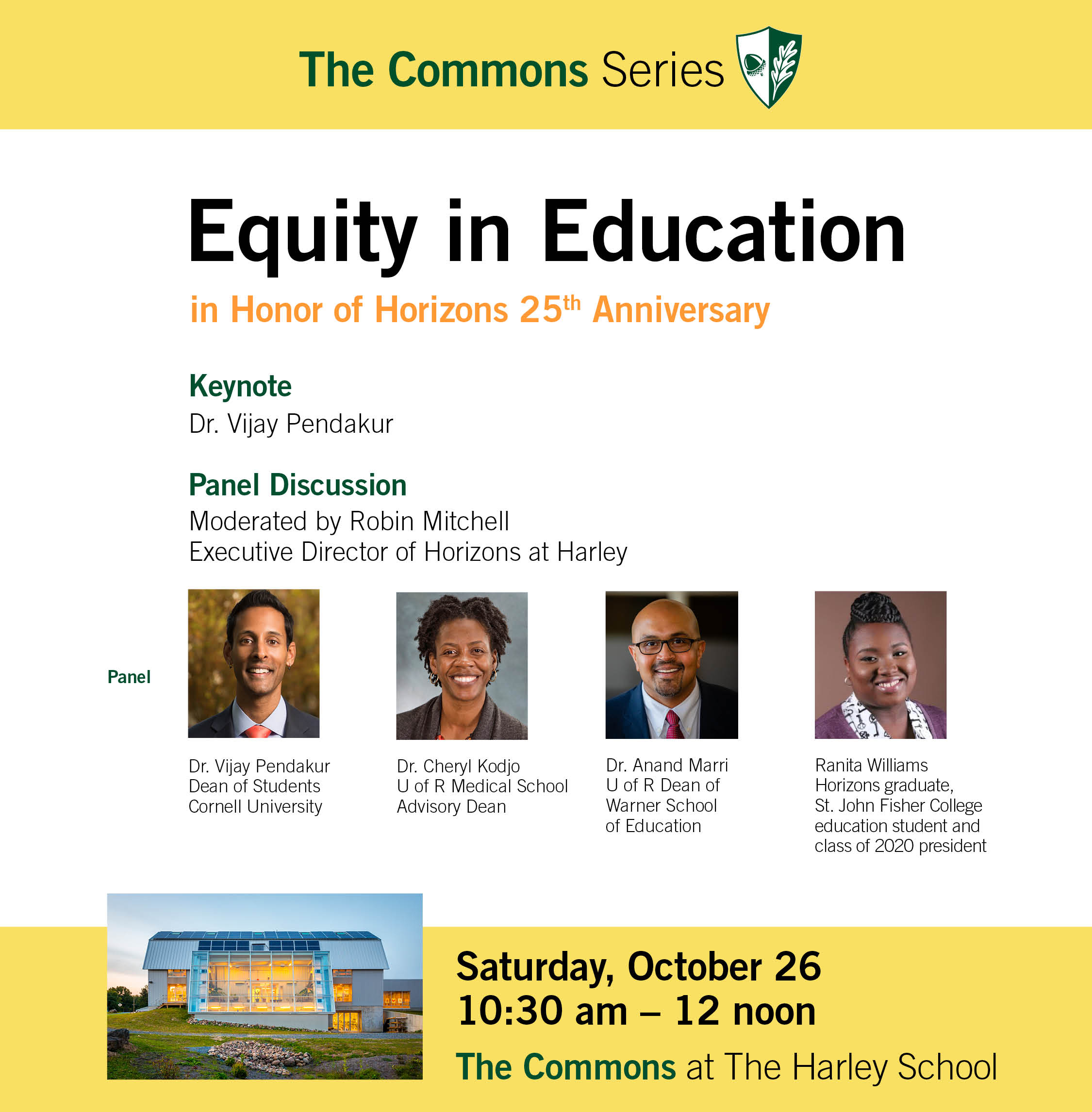 With special guest, Dr. Flavia Nobay, Associate Dean for Admissions at U of R School of Medicine and Dentistry.
Who Should Attend:
Educators building more inclusive school and college communities
Government and nonprofit leaders working to address structural inequality in Rochester
Community members interested in learning more about equity
College students engaged around diversity, inclusion, and access
High school students and their families navigating the college admissions process

Presenter Bios:
Dr. Vijay Pendakur began his journey in higher education as a social justice educator, helping students think critically about the identities they carry, and the ways in which these identities interact with socio-historical frameworks of power, privilege, and oppression to create what we often call "the campus experience." He has carried his deep concern for the health and well-being of students into a variety of student success efforts, from improving campus climate through policy and systems work, to implementing transformative programs to empower students at the margins to persist through to successful graduation.
Dr. Cheryl Kodjo is an advisory dean at the University at Rochester School of Medicine and Dentistry. Dr. Kodjo's research interests are parent-adolescent communication, youth violence, and access to mental health services. Her ongoing studies address:
1) Working to increase the number of minority pediatric residents pursuing careers in academia;
2) Developing and implementing curricular elements related to cultural competence that are integrated into all levels of medical education at the University of Rochester.
Dr. Anand Marri became dean of the Warner School on January 1, 2019. He is the former vice president and head of outreach and education at the Federal Reserve Bank of New York and was a professor of social studies and education at Columbia University Teachers College. "As a first-generation immigrant from India, teaching in schools composed of students from low and moderate income families made me keenly aware of the ways in which inequitable educational opportunities reinforce widening disparities in society", Marri says. "These observations prompted me to become an academic researcher intent on better understanding and addressing these inequities and have animated my scholarly and professional work."
Ranita Williams is a Horizons at Harley graduate currently attending St. John Fisher College. She is an Inclusive Adolescent Education major and serves as class of 2020 president.
Dr. Flavia Nobay is Associate Dean for Admissions at University at Rochester School of Medicine and Dentistry, where she works to shape a student body that both personifies the school's humanistic approach and is in lockstep with the evolving health care system and its need for diverse, outcomes-driven, data savvy, team-oriented physicians. In her role, Nobay hopes to bring more women into medicine who aim to ascend to academic and leadership roles, and to develop strategies to support their progression.