Summer (K-8)
Horizons students in Kindergarten through 8th grade spend six weeks each summer on the campus of The Harley School in Rochester engaged in a transformative program that blends high-quality academics with cultural enrichment, wellness, recreational, and character development activities.
The program is full day and includes transportation, breakfast, lunch, field trips, swimming, organic gardening, community service projects, and cultural activities. Students are re-enrolled for consecutive summers starting after their Kindergarten year and continuing through 8th grade.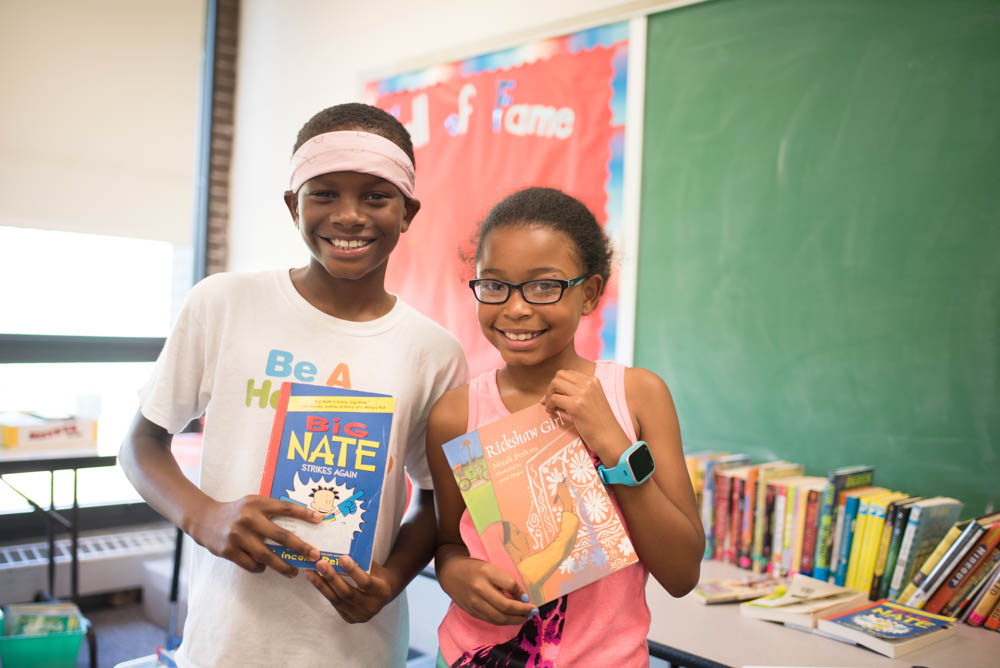 A Model for Success
Horizons provides a safe, nurturing learning community where students are exposed to integrated theme-based academics that support their success in school. Our experiential model of teaching focuses primarily on reading and math, with STEAM (science, technology, engineering, art and mathematics) subjects infused into the curriculum for all grades. The program is designed to meet the developmental needs of students in each grade through experiences that enhance confidence, foster awareness of community responsibility, build problem-solving skills, and encourage a lifelong interest in learning.
Each classroom is staffed with two experienced, certified teachers and one classroom assistant. Teachers come from the Rochester City School District, suburban school districts, and The Harley School. A reading specialist aids the classroom teaching staff. A majority of teaching staff return each year. In addition, Horizons graduates who are now attending high school or college serve as classroom assistants. High school and adult volunteers provide additional support as classroom helpers, tutors, library assistants, and guest speakers. All of our students learn to swim, an important life skill that builds confidence and can save lives.
Project-Based Learning
Real-world projects drive learning outcomes in the classroom, the garden, during field trips to area cultural venues, and in fitness activities outdoors, in the gym, and in the pool. Our curriculum is the product of ongoing work of our program committee, a team of diverse educators who create best practices and content that best serves our community. This is differentiated by grade-level. In our younger grade levels, we adopt a Montessori themed approach to learning with a small-centers that students rotate through in small groups. In the middle school grades (5-8), we move towards project based learning, with student led projects and a gradual release of teacher autonomy. These practices reflect the trends of our national partner, Horizons National and also The Harley School itself, whose own ethos is built around the concept of individual student exploration.
The model is proven to be effective.
Since 2013, 100% of our eighth grade graduates have gone onto successfully complete high school and more than 80% have moved on to higher education. When students and their families commit to completing the Horizons program, they overcome the negative effects of summer learning loss and create a wonderful springboard towards the successful completion of high school.

A Safe and Enriching Learning Environment
Our students, together with teachers, staff, and, volunteers, and supported by parents and partners from the community, collaborate daily. We gather as a full group to share meals and learn about each other's accomplishments. We practice mindfulness daily as a means of allowing students to recognize their thoughts, feelings and emotions, and to center themselves appropriately before embarking on the the school day. Fifteen students are in each class, each with two teachers and a classroom assistant. This provides an unparalleled level of individual support for each student who enters the Horizons program ensuring that the unique needs of every student can be met. The classroom environment is energetic, interactive, and charged with creativity. Horizons teachers use The Harley School's theme-based curricular model, bringing multiple dimensions to the learning process.
A Community of Learners
The teachers, staff, volunteers, and others who make up the Horizons at Harley community believe that learning is a lifelong and year-long process that should be available to all children equally. We joyfully take on the responsibility to nurture in children a love of learning, self-respect, and kind consideration for others. We encourage children to adopt the habits of a healthy lifestyle and to care for the environment. In doing so, we have confidence that each of our students will go on to become a positive influence on their families, neighborhoods, and communities. Many of our students undergo considerable challenges to travel to the program each day and yet our average daily attendance of 95% speaks to how our students and their families feel about both the program and the school itself.
Enrollment Forms
Registration is now closed for Summer 2023. Come back in February 2024 for next year's application.